Welcome to Mimi Fontaine Eye Cream's Website
The Quick, Easy Way to Prevent Premature Aging
Everyone cares about their appearance, but at some point we all "hit a wall."

You may know the feeling. You're getting older while everyone else seems to get younger. You worry about how you compare to all these fresh new faces. Can you compete?

Yes you can. There's a natural, easy solution to look 10 years younger in the next 30 days, and we'll reveal it to you soon. But first…

If you're concerned about getting older, or even just looking older, you're not alone. In 2013 there were 44.7 million U.S. citizens over the age of 65 — that's one out of every seven Americans.

But even though the American population will continue to skew older (thanks to increasing life expectancy), that doesn't mean everyone wants to look or feel older.
People always want to look younger

And you don't have to be a senior citizen to be concerned about how old you look.
Many people in their 20s and 30s are worried about their appearance because they know that, unfortunately, age discrimination exists in many forms.
How many times have you heard about someone unfairly being passed over for a person that's younger? Sadly this happens in the workplace, in social groups, even in personal relationships.
It may have even happened to you or someone you know. But chances are, it wasn't age or looks that caused the rejection.
It was loss of confidence.
As we grow older and our reflection shows a tired face with fine lines and dark circles under the eyes, we tend to lose confidence — especially when we see vibrant young faces all around us.
Fortunately, this can all be fixed by addressing three key markers of advancing age.
1. Fine lines and wrinkles make skin look weathered

As you grow older, your body produces less and less of the things it needs to look and feel youthful.
One of these things is collagen, the protein that holds together the cells and tissues of the body and gives them structure.
As you age, your collagen production slows down and gaps occur beneath the surface of your skin. The top layer of skin falls into these gaps, resulting in fine lines and wrinkles.
Luckily, scientific research has discovered two compounds that combat this wrinkling process:
● Hydrolyzed collagen plumps the surface of the skin and makes it look more youthful.
● Hydrolyzed elastin allows your skin to return to its original shape after being altered or stretched, which occurs when you smile or change facial expressions.
These two compounds together form a super-blend that keeps your skin looking youthful and wrinkle-free!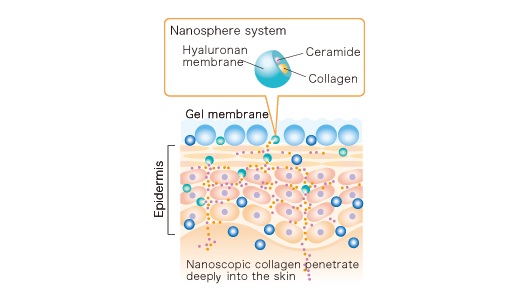 But what about…
2. Dark circles, age spots, and uneven coloring make you look tired and aged
Nobody wants discoloration around their eyes. It makes you look exhausted and instantly adds years to your face — even if those years haven't passed.
Once again, science has given us a natural, effective solution for skin pigmentation problems.
Licorice root is an all-natural ingredient that's proven to even out skin tone and revitalize the face.
If you're worried about uneven skin tone, licorice root is the "secret ingredient" you're looking for!
But then there's the big one…
3. Dryness and premature aging are the biggest threats to your healthy, vibrant skin
There's no doubt about it. Dryness and premature aging of your face will make people assume you're years older than you actually are. Even worse, you'll clearly see it in the mirror.
You can prevent and reverse this process with two proven super-ingredients:
● Aloe barbadensis, also known as aloe vera, contains 20 minerals, 20 amino acids, 12 vitamins, and various active enzymes that all come together to nourish, soothe, and cool your skin. Plus, aloe barbadensis is a powerful anti-inflammatory agent.
● Vitamin E is a potent antioxidant that's proven to combat dryness by helping your skin retain its natural moisturizers. Vitamin E has achieved superstar status for neutralizing free radicals that do significant skin damage.
The one-two punch of aloe and Vitamin E keeps your skin moisturized, smooth, and vibrant — reversing the clock and taking years off your face!
The Quick and Easy Solution to All Your Skincare Problems
Wouldn't it be great if you could combine all those super-ingredients into one?
If one product could easily address those "big three" markers of premature aging to keep your face looking young and fresh?
Something that's quick and easy to use…
Something that will save you the hassle of repeated trips to the spa or even a plastic surgeon…
But we know you don't have time to assemble at home all the power ingredients we mentioned above.
Fortunately, you don't have to. We've done all that work for you.
In just seconds a day, you can give your skin the nourishment it needs and get the look you deserve.
Save Money, Save Time, and Save Your Skin

Keep your skin young and beautiful with Mimi Fontaine Anti Aging Eye Cream!
We've developed this one-of-a-kind face cream after 20 years in the Hollywood beauty industry — and we use it ourselves every day. Our proprietary blend combines all the power ingredients mentioned above into one easy-to-apply cream.
You can use this multi-function cream as a general face moisturizer, as a spot healer, or you can pat a little bit under your eye to keep sensitive skin looking great. Mimi Fontaine Anti Aging Eye Cream's multiple uses will keep you from having to buy multiple other products that may not even work.
Plus, our paraben-free face cream is 100% safe to use every day and is never tested on animals.
A scientifically proven formula for beautiful skin:
● Hydrolyzed collagen plumps up your skin to reduce lines and wrinkles
● Hydrolyzed elastin improves your skin's elasticity and prevents crow's feet
● Licorice root evens out your skin pigmentation and gets rid of dark under-eye circles
● Aloe barbadensis soothes your skin and drastically reduces inflammation that leads to damage
● Vitamin E guards against harmful ultraviolet radiation and free radicals to provide the ultimate protection
● Vitamin A precursors trigger collagen production, promote cell rejuvenation, and decrease pore size to enhance your skin's feel and appearance even further
● Light, smooth cream glides on nicely and can be worn alone or under makeup
● Paraben-free formula is safe for you to use every day
What you can expect when you use Mimi Fontaine Anti Aging Eye Cream:
● Look 10 years younger in the next 30 days with this highly effective blend of super-ingredients
● Save money and time by using this one product for multiple purposes
● Smile with confidence knowing you look younger and you're not damaging your skin just by making a facial expression
● Enjoy compliments from friends and family when they notice how great you look
● No longer worry about ageism that discriminates against people for being "old"
So how much is this luxury product that's just like clinical-grade solutions dermatologists recommend to their patients?
You won't pay $200 like you would after a visit to the doctor -- or even up to $137.00, the way it's being sold elsewhere online. You won't even pay $100.
We want our top-quality face cream to be available to anyone who wants the joy and confidence of that youthful feeling.
We want everyone to be able to look in the mirror and see a glowing, healthy face.
That's why you can get it today for the moderate price of only $89.95 — that's less than the price of a nice dinner for two to look and feel great for many years to come.
And we'll deliver it right to your doorstep to provide you even more convenience!
That means you don't even have to leave your home to get the unique anti-aging formula that has already put confident smiles on the faces of our clients!
And don't just take our word for it. Hear it right from our satisfied customers:
Take a Few Years off of your Eyes!!!!
I really have always had very puffy bags under my eyes. I have jokingly said many times, mine really aren`t bags they are luggage. Even though I joke about it, I have always hated them. I have had a lot of health problems the last 10 years and that has only made them worse. I had a really hard time being able to tell if this was working on my bags because I keep getting sick.
However I could see immediate results in the fine lines around and under my eyes. I am attaching a couple of pics for you to see the difference. I think it is helping with the bags and circles as well but hard to see in the photos and because I have been sick….
I feel that even with my health conditions and suitcases under the eyes that this product is helping and I think will show even better results with longer use. I do recommend this product if you have fine lines and dark circles and bags like me. It is soothing and hydrating.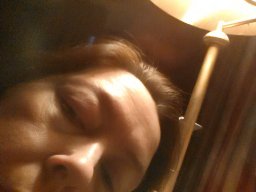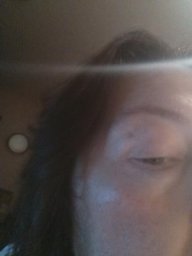 Jennifer Sparks, North Carolina

Great Product
I love this stuff. I have noticed a difference in puffiness and dark circles in just 2 days.
Melissa Kupfer, Oklahoma

Confident Recommending Giving It A Try
I am impressed with this product. The ingredients include collagen - that plumps up skin, licorice root extract - to help with dark circles and Vitamins E and A. It comes well sealed in a bottle that is protected from sunlight and is dispensed using a pump. The eye cream is white in color, non-greasy and spreads easily. What I really like is there is no noticeable scent and the eye cream does not cause any sting or discomfort to my skin. I only need to use a small amount, it absorbs and dries quickly and is not sticky. I apply this in the morning and let it dry, then apply my regular makeup. My makeup goes on smoothly over the eye cream and doesn't feel heavy. I also use this before bed and I like the results I am seeing. My dark circles seem to be less noticeable and the skin around my eyes seems more hydrated. No animal testing is done with this product and it comes with a no questions asked money back guarantee. I honestly feel confident recommending giving it a try. I definitely plan on continuing to use it.

Janet Barritt, Ohio

Love it!
As a woman in my 40's, I have started the battle to stave off wrinkles. The skin around your eyes requires a special kind of moisturizer…. There were several things I really like about this cream.
1. The pump makes dispensing easy. I like that you do not have to unscrew a lid to get to the product.
2. A little goes a long way. One pump dispenses enough for both eyes.
3. The cream absorbs well and without any greasy feel leaving my skin feeling silky smooth.
4. There is no stinging or burning. I was able to use it on the sides of my eyes as well as underneath.
5. I noticed a visible reduction in the bags under my eyes. I don't have wrinkles to attest to wrinkle reduction but I have confidence that this will help prevent the formation of them.
Overall, this is one of the best eye creams I have tried. It will definitely become a new part of my skin care regimen.
Darla Davidson, Indiana

Helps you look younger instantly
I have only been using this product for a few days, but I can absolutely see a difference in the dark circles, and the fine lines around my eyes. I applied it before my make up in the morning and before bed. A tiny bit goes a very long way. I have very sensitive skin, it did not bother my skin at all, and it soaked in immediately, without leaving a greasy feeling. I would definitely recommend this product to anyone with dark circles or fine lines.
Michele Derry, Michigan
We know that you'll experience the same satisfaction as all our happy customers. In fact, we're so sure…
We back your purchase with our 365-day, money-back, no-questions-asked GUARANTEE
That's right. You have a full year to use and evaluate Mimi Fontaine Anti Aging Eye Cream, and if you're not completely happy with the results you get, we'll give 100% of your money back. It's that simple.
There's no risk for you to try the solution that can literally change the way the world sees you.

Supplies are limited, so buy now!

Because of the premium ingredients we use to formulate Mimi Fontaine Anti Aging Eye Cream, we have limited inventory on hand. Your opportunity to get this amazing product at such a great price ends when our inventory runs out.
So order right now to take advantage of this incredible offer!
The time is now…
Time to reclaim your youthful look and confidence…
Time to protect and nourish the part of you that everyone sees first...
Time to greet the world with a big smile every day.
Simply click the "Buy Now" button below to visit our product page and complete your order now!

Rush my Mimi Fontaine Anti Aging Eye Cream for $200
$89.95

TODAY!


Get this proven, one-of-a-kind facial cream today to lock in your low price and be on your way to a younger-looking, more confident you.

And remember, your purchase is 100% risk free thanks to our 365-day, money-back guarantee!
Stop the presses!! If you're seeing this red-letter message, it means our Black Friday prices are still in effect. Click the "Buy Now" button to see....